International Desk:
Former spy Sergei Skripal and his daughter were poisoned by a military-grade nerve agent of a type developed by Russia, Theresa May has told MPs.
The PM said the government concluded it was "highly likely" Russia was responsible for the Salisbury attack.
The Foreign Office has asked Russia's ambassador for an explanation.
Mrs May said if there is no "credible response" by the end of Tuesday, the UK would conclude there has been an "unlawful use of force" by Moscow.
The chemical used in the attack, the PM said, has been identified as being part of a group of nerve agents known as Novichok.
Mrs May said: "Either this was a direct action by the Russian state against our country, or the Russian government lost control of its potentially catastrophically damaging nerve agent and allowed it to get into the hands of others."
She said Foreign Secretary Boris Johnson had told the ambassador Moscow must provide "full and complete disclosure" of the Novichok programme to the Organisation for the Prohibition of Chemical Weapons.
Mrs May said the UK must stand ready to take much more extensive measures, and these would be set out in the Commons on Wednesday should there be no adequate explanation from Russia.
Sixty-six-year-old retired military intelligence officer Mr Skripal and his daughter, 33, were found slumped on a bench in Salisbury city centre. They remain in a critical but stable condition.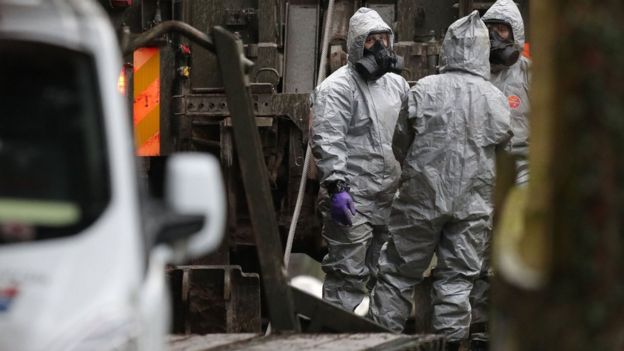 Det Sgt Nick Bailey, who fell ill attending the pair, remains seriously ill in hospital but has been talking to his family.
Addressing the Commons following a meeting of the government's National Security Council, Mrs May told MPs the positive identification of this chemical agent was made by experts at the UK's Porton Down laboratory.
She said Russia has previously produced the agent and would still be capable of doing so.
The decision to point the finger at Moscow was also based on "Russia's record of conducting state-sponsored assassinations and our assessment that Russia views some defectors as legitimate targets for assassinations", the PM added.
Russian Foreign Ministry spokeswoman Maria Zakharova said Mrs May's statement was "a circus show in the British parliament".
"The conclusion is obvious – it's another information and political campaign based on provocation," she said.
Earlier, asked whether Russia was to blame, President Vladimir Putin told the BBC: "Get to the bottom of things there, then we'll discuss this".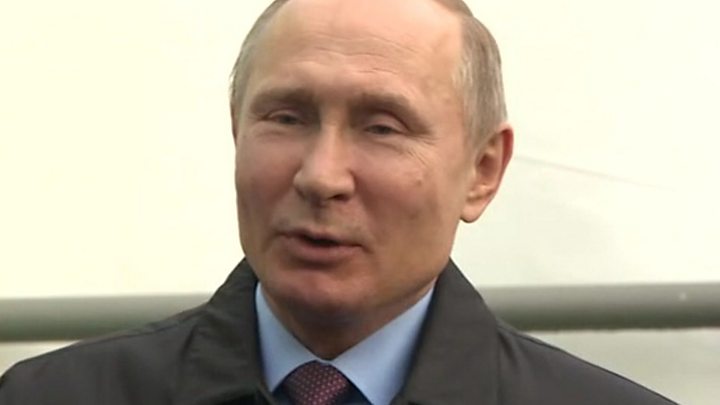 Police activity continued on Monday afternoon, with officers – some wearing hazardous materials suits- removing a white van from the village of Winterslow, about six miles from Salisbury.
A Sainsbury's car park in Salisbury was also sealed off by police.
Mr Skripal was convicted by the Russian government of passing secrets to MI6 in 2004, but given refuge in the UK in 2010 as part of a "spy swap".
On Sunday, up to 500 Salisbury pub-goers and diners were told to wash their possessions as a precaution after trace amounts of the substance used to poison Sergei and Yulia Skripal were found on and around a table where they had eaten in Zizzi.
Traces were also found at the Mill pub in the city which, like Zizzi, remains closed.bbc